Kitchen Joinery Kent
Maidstone, Ashford, Gravesend, Sittingbourne, Gillingham, Tonbridge and Sevenoaks
Do you require Kitchen Joinery in Kent? Our kitchen installation experts offer a bespoke design and fitting services for Maidstone, Ashford, Gravesend, Sittingbourne, Gillingham, Tonbridge and Sevenoaks.
Many people consider bespoke joinery to be a lost art form. With the flat-pack world we live in nowadays, finding a professional joinery service can be challenging.
However, if you are in the Ashford area, then you are in luck. Maple Leaf Home Improvements has many years of experience providing quality joinery services to our customers. If you have a kitchen design in mind, we are always happy to help.

Joinery is the backbone of your kitchen installation. As such, this makes it much the backbone of our business. Whether you are installing a kitchen or need our joinery services to help you redesign your whole house, we can help.
Our joiners are fully qualified and trained to tackle any joinery work our customers may need. They have the skill and knowledge to provide you with any look you may want to achieve. With their help, it won't take long to transform your house into a home.

Bespoke Fitted Kitchens
The kitchen is one of the essential rooms in the home; it's seen as the very heart of a household. Especially in Europe and the UK, it seems commonplace for families to gather in the kitchen to chat, eat, drink, relax, and spend time in. Children may sit at the table and do their homework, or you may even use it to do leftover office work or your taxes. Your home deserves a kitchen that is on theme with your taste and reflects who you are; it also needs to consist of all the necessary appliances to carry out daily tasks.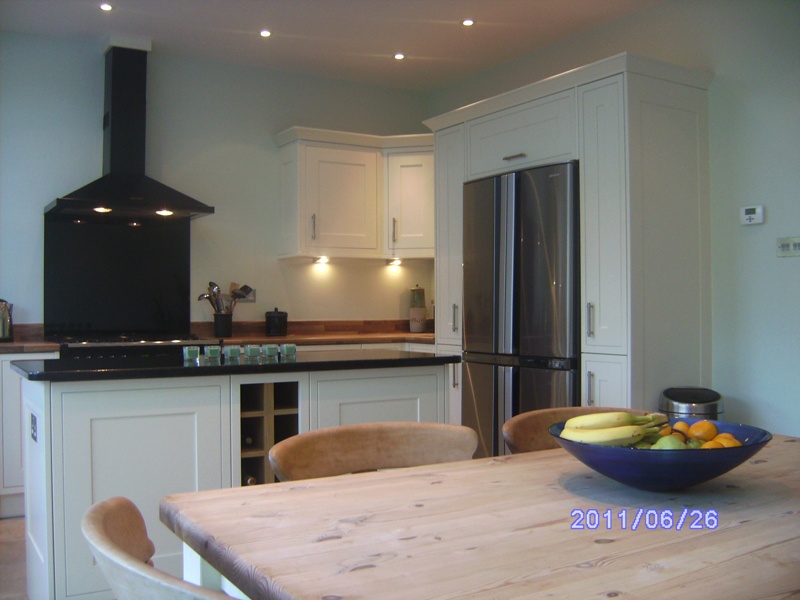 Using our professional kitchen fitting service will provide you with top-quality designers and fitters to complete whatever kitchen installation, wall removal or renovation labour you require. Contact us today for a bespoke fitted kitchen project or small job. We can respond over the phone or via email with a free quote to accurately represent your budget and any further advice or information you require.
Maple Leaf Home Improvements can bring its local Kent customers timber joinery that combines skilful technology with artistic manufacturing techniques to conjure a subtle kitchen design that is stylish and simplistic.
From the factory to your front door, we will introduce you to the highest level of production quality. Our installers and designers will discuss every installation or design decision or idea with you in-depth to ensure we meet all your specifications accurately.
Maple Leaf Home Improvements wishes to provide its clients and customers across the UK and surrounding areas with traditional kitchen designs offering a homely, warmth and old-timey aesthetics.
We'll use joinery and artisan techniques mixed with manufacturing technology to allow you to have an in-depth, accurate view of the design plan before we even start fitting and building. Our professionals are qualified and experienced enough to bring you a unique, high standard service worthy of investing your money in and respecting your budget.
Maple Leaf Home Improvements present bespoke traditional timber joinery alongside the latest and greatest high-tech manufacturing devices to create contemporary kitchens for our local customers and dedicated clients.
We'll work with you closely to curate high-quality, modern designs that reflect your tastes and personal requirements to achieve customer satisfaction.
Maple Leaf Home Improvements are here to offer rustic kitchen designs and installations to our loyal and lucky clients across the UK and local area.
We combine more common aspects of manufacturing tech alongside artisan techniques to formulate an authentic rustic aesthetic for your kitchen. From our factory right down the moment, we arrive at your door. Our services offer beautifully designed top quality products to an industry standard.
Maple Leaf Home Improvements are always here to provide our excellent customers and clients with bespoke kitchen designs and joinery.
Our fantastic staff has been combining traditional joinery techniques with the latest manufacturing technology to help create the most refined natural kitchens. We utilise raw materials, such as wood and metal, alongside materials that provide a more natural appearance to offer a stunning rustic look to your new kitchen renovation.
Artisan Kitchens and Joinery
The kitchen isn't solely a place where you and your family or potential house guests can enjoy a homecooked meal; it is an essential room in a home where so much of life takes place. The designed furniture, the decoration, the painting, and the appliances themselves need to reflect that; therefore, they must be of taste, quality, and immense durability.
Maple Leaf Home Improvements produces hundreds and thousands of kitchen design plans and installations that perfectly suit all the customer's needs and desires, from complete refurbishments to beautiful new layouts and styles with a gorgeous finish.
Our professional designers and fitters are skilled in the art of creating and building your dream kitchen, no matter the style or theme, whether it be super modern or a more traditional farmhouse design. We utilise and install the worktops and timbers all of your choices, accurately renovating and refitting all your desired units, decorative items, cabinetry, sinks and appliances. All of which comes at a reasonable price within your budget.
We work closely with numerous nearby associated specialists to bring our loyal clients and local customers only the finest plumbing, building, electrical work, handmade pieces, wardrobes and worktops, utilising top-quality brands and ensuring a smoothly run project.
We'll fit new doors, knock down walls and do whatever it takes to provide you with the outcome you desire. Over the years, our workmanship has garnered a sparkling reputation with our customers past and present. Those clients that have reviewed our work frequently recommend us to other companies and individual customers, both domestic and commercial.
Are you looking for a Kitchen Joiner in Kent?
You may use our joinery services in conjunction with our kitchen fitting services. You can also employ us as a completely separate service; the choice is yours. Whichever you choose, this service will be the very best in the Ashford area.
Our joiners always work extremely hard to supply whatever we can for our customers. We pay attention to the minor details left by previous owners that you desire to replace or remove so that the outcome is always the best it can be.

Our joinery services are available in the Ashford and greater Kent area. If you have any questions regarding this service, then please feel free to get in touch. We are always more than happy to answer any planning questions you may have and help in any way we can.
---
If you are looking for kitchen joinery in London, Kent, get in touch today. Call 01622 737 439 for bespoke design and kitchen fitting services for Canterbury, Maidstone, Sussex, Ashford, Turnbridge Wells, Gravesend, Sittingbourne, Gillingham, Tonbridge and Sevenoaks.
We based plenty of our work around the postcode sectors and district ME17; however, we branch our work out, so contact us today via the phone number or email address if you require our services elsewhere. Visit our website where you can find all our necessary details.