KITCHEN INSTALLATION
Maidstone, Ashford, Gravesend, Sittingbourne, Gillingham, Tonbridge and Sevenoaks
Are you looking for Kitchen Installation in the Maidstone and Kent areas? Our experts are available to discuss the supply and fitting of your perfect kitchen.
Over the past 20 years, we have helped many people in the Maidstone area create their perfect kitchens. We can be with you from the design stage and help you create a great space for you and your family to enjoy for many years to come. After the design stage, we can then install all the features that you would like.
All the kitchen installations that we do are bespoke to the house and family that lives there. We want to break this stigma, and so we continuously work to the highest standards possible and only deliver our best work on each installation.
Even if we haven't helped you design your kitchen, we can still install it for you. Maple kitchens offer you the best high-quality kitchen installation in town. As your projects move forward daily, we will keep you updated with how the work is going during the building job.
Each project we undertake is different. We will give you an estimated time on how long to install yours before we begin. We will work hard to ensure that we stick to this time and deliver you the best kitchen for your needs.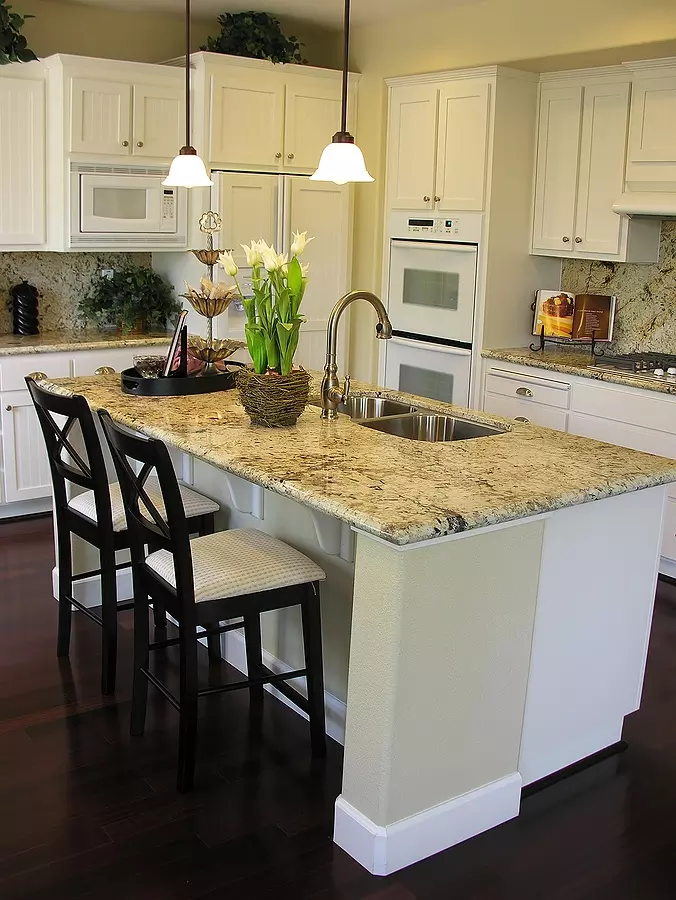 Would you please get in touch if you would like any more information about our kitchen installation services in the Maidstone area? We will be more than happy to answer any questions you may have. Contact us today here at Maple Kitchens for your dream kitchen to be designed in the way it should be.
Our Kitchen Installation Services

Here is a list of the kitchen installation services that we provide at Maple Leaf Home Improvements. If you would like to find out more information about any of these expert services, don't hesitate to get in touch with us today by giving us a call or sending us an email, and a member of our qualified team will always be happy to help.
Find out more about our kitchen fitting services below.
Here at Maple Leaf Home Improvements, we can refurbish your kitchen cupboards and cabinet doors at a very affordable price. This will give your kitchen a new and fresh look and save you money instead of buying brand new cupboards and cabinet doors.
If your kitchen cupboards and cabinet doors need a makeover, then please get in touch with us today. We are here to make your kitchen cupboards look as good as new!
Are you looking to change your kitchen cabinet doors and cupboards? We provide a high-quality service to ensure you get your dream kitchen. It is so important to have an experienced professional install and change your kitchen cabinet doors.
Our company has years of experience in the industry, so please contact us today for more information, and a member of our team will be able to help and give you the advice you need.
We can assemble your kitchen units for you at a very affordable price, around Kent and the local surrounding areas. We are fully qualified, with years of experience in the industry, and we aim to keep each and every customer happy and satisfied with our services.
If you're looking for fitted kitchen units around Kent and the local surrounding areas, then we can help. We are fully qualified in fitting and installing brand new kitchen units to give your kitchen your dream makeover.
If you would like to discuss the details for your dream kitchen, then please give us a phone call today, and we'll provide you with advice and a free quote.
Maple Leaf Home Improvements provides a full kitchen fitter service to fit your entire kitchen to perfection. We can handle everything from the plumbing to the installing to ensure you get the kitchen you want.
We want to meet all of our customers' requirements, so get your brand new kitchen today, here at Maple Leaf Home Improvements in Kent, and local surrounding areas.
You may only be looking for a part of your kitchen to be installed, and we can help with this too! Fall in love with your kitchen today by using our partial kitchen installation service.
To look at some of our previous work, please check out our website, or if you would like a free quote or more information, please call or email us today.
Hanging kitchen cabinets can really add to the overall effect of your kitchen design. It is important to have these installed by an experienced professional to make sure the process is carried out correctly.
They look amazing and will make you proud of your kitchen. To find out more about our hanging kitchen cabinets installation service, please give us a call today.
We can install your kitchen sink for you, with our many years of knowledge and experience. Our installations are professional and of a very high standard, and we can also give you advice on keeping your kitchen sink maintained.
We are professional plumbers, so we can ensure your kitchen sink will meet all your requirements. We are a highly trusted company by our customers.
What does kitchen installation include?
Your Kent kitchen fitter will initially begin by turning your water supply off so that they can efficiently perform the necessary pipeline works. It will be turned off for only a short few hours at the stop cock until the work on your pipeline is finished. Once this has been completed, the water supply can then be re-instigated.

Next, your kitchen will be stripped out by our trusted professionals, beginning with the doors, drawers, hob and oven, wall units, etc. The stripping process is relatively fast, and it is surprising how quickly the fitters can complete this task. If your plumbing or cables require moving, this will be the following step before skimming or patching floors.

They will then carry out any necessary building or construction work, such as moving doorways, removing or taking down walls, building stud walls, etc. Before fitting any appliances into your kitchen, professionals will carry out any work they regard as "first fix", including alterations to gas, electrics and plumbing, which could take a few hours.
They will proceed to mark out sockets, switches and fused spurs and extend the plumbing enough for your sink to fit into your brand new layout. Registered professionals will prepare and fully plaster your ceiling and walls before applying the coving.

Next, your floor will be grouted, tiled or covered with laminate, and once the floor is down correctly, builders and fitters can adequately fit your counter units and appliances.
Your kitchen fitter will often begin at the corner, traditionally with the base units, and then they work outwards and move around the room, working their way to completion.

After this, the worktops are then installed, alongside sink installation. Each worktop is explicitly cut to size and joined together. Our company professionals will then reconnect your sink to the plumbing and pipework.

All the pelmets, infill panels and cornices are fitted, alongside drawer fronts, doors and the many plinths necessary.

Kent kitchen fitters from our professional service are your best bet for proper workmanship. You could risk spoiling your entire kitchen with poorly constructed or cut cornices or mitre joints.
Finally, your professionals will help you install the integrated or any pre-existing appliances you aim to keep, connect them appropriately and test them.

Should I invest in a new kitchen?
You should never genuinely compare minor updates to the home or kitchen with any significant upgrades that often involve replacing or rejuvenating your appliances such as countertops, sinks, flooring, adding islands or new vents.
These are much more severe changes to your household kitchen that will ultimately cost you much more money to complete and refine.

The advantages of investing in a significant upgrade to your kitchen are that it can increase the final value of your home, which is excellent for those seeking to sell their property in the future. The price increase may not add up to the cost of your decoration or renovations; however, every little helps. Including these newly rejuvenated aspects of your home, such as a new kitchen, will help entice customers when you are selling your house.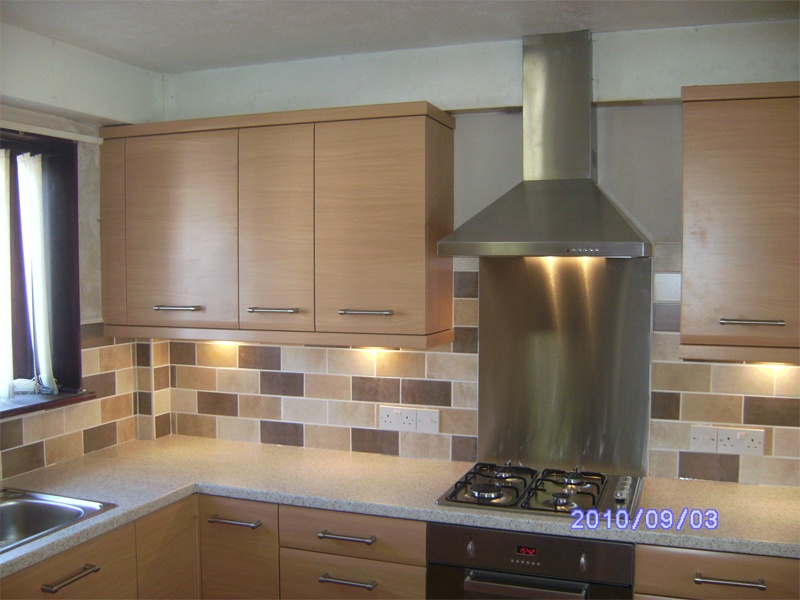 Does a new kitchen add value?
If you want to add more value to your home, you want to focus on the aspects that require renovation and the parts that will genuinely impact if you change them completely. Choose improvements that suit the style of your home and the overall aesthetic of the property, especially if you have a much older home with a more traditional or even historical structure.
There are many ways you could add value to your home by adding a kitchen; for example, if you are incredibly skilled at DIY and you want to take on small tasks like painting walls or cupboard doors, potentially adding new door handles, this may be a helpful route.
However, it's good to keep in mind that lousy workmanship could also have a massively damaging effect on the overall value of your kitchen or home. Suppose your design consists of putting in new floors, surfaces, knocking down walls or anything to do with restructuring the appearance completely. In that case, you may want to consult and hire a builder or kitchen fitters in Kent.
Ways to Improve your kitchen
You can take many routes when renovating or redecorating your kitchen to revitalise the home and overall aesthetic. It would help if you initially considered your property's age and overall style before designing your brand new kitchen. You'll want to assess whatever design plans or small ideas you have in the schedule fit the rest of your home.
Consistency is essential, especially for those with much older houses striving to keep the value of their homes in high numbers. You never want to get rid of anything that offers a timeless appearance, the general rule of thumb is to stick with simplistic themes that are stylish, clean and compliment your home.

Focus on enhancing the space you have in your household or property by making it more efficient and attractive. Perhaps your tastes have changed; it is always good to improve your home with a more refined outlook.
The best ways to start are probably with your essential appliances, the sink, cooker and fridge, also known as the kitchen triangle of devices, as they are the most frequently accessed or used.

Then, you want to improve your kitchen storage, and these are aspects like shelves and cupboards; you may keep your utensils and cutlery, mugs, glasses, food, spices, medicines or prescription drugs if you keep them in the kitchen instead of in your bathrooms.
Make sure these are adequately lit with under-unit lighting and if not, be sure to add that to your design plan.

It is essential to ensure your floors are well-fitted; if you notice they have dents, chips or perhaps have irreparable stains, it may be time to introduce new flooring. Keep the colours and floor fabrics clean and straightforward to maintain.
Choosing the most suitable and perfect lighting can ultimately transform the appearance of your ordinary kitchen into something brand new and unique. Our kitchens in the modern day can perform successfully on a multifunctional level; it is a space that we love where so many daily activities go on. The lighting needs to be suitable enough to cater to dining, entertaining your guests or family, cooking, and even office work or homework.
Our company professionals can provide you with highly practical advice for all the best appliances and manufacturers throughout your local area. They can also offer excellent free quotes for the business services we provide that will closely fit your budget.

---
If you are looking for a guaranteed kitchen installation in Kent, get in touch today. Call 01622 737 439 for bespoke design and kitchen fitting services for Herne Bay, Canterbury, Maidstone, Ashford, Gravesend, Sittingbourne, Gillingham, Tonbridge and Sevenoaks.